« Back to Glossary Index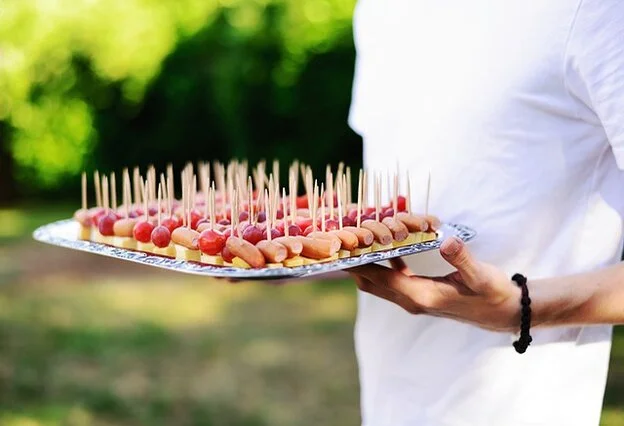 What Are Finger Foods
Finger food is food meant to be eaten directly using the hands, in contrast to food eaten with a knife and fork, spoon, chopsticks, or other utensils.
They are commonly served at social events, formal events and celebrations, but are often served as appetisers (hors d'œuvres).
The ideal finger food usually does not create any mess eg. no crumbs, drips, or any kind of mess, and should be able to be eaten with one hand.
Whether you're hosting a casual get-together, a formal event, or a birthday party with family and friends, there's always a good excuse to put out a spread of easy appetizers.
When it comes to finger foods, the key is that they're as easy to eat as they are to make ahead of the party.
Finger Food Easy Ideas
Kick start your party with these easy finger food recipes to make ahead, featuring both classics and some of the latest ideas and trends for your party food.
Although not all finger foods can be prepared ahead of time, we all love it when we find ones that we CAN make ahead.
Here we cover both hot finger foods and cold finger foods that can be made in advance.
They are simple are to put together, easy to eat. and can be served to small or large groups of people!
Cold finger foods
If you are serving cold finger foods, this list can be entirely assembled a day or even two days before the party, then pulled straight out of the fridge and served!
This recipe for strawberry cheesecake fat bombs is so quick and easy to make and they are no bake.
These keto strawberry fat bombs will make a delicious dessert! They are also a great option for on the go snacks!
Asparagus Rolls are an excellent refreshing food to serve. They are delicious, easy to make and sure to please a crowd.
An oldie that's been modernised. An easy to make finger food that's packed with deliciousness in bite.
Create a traditional Indian Tikka skewers for fabulous balance of spices and flavours.
They are easy to make and perfect served either cold or hot at your party.
Create bite size Corned Beef Fritters from this recipe. An easy finger food idea that has plenty of flavour.
These are perfect to make ahead and served cold. They are great hot as well.
Hot finger foods
These hot finger foods can be prepared ahead of time, the day or night before.
Some are par-cooked, so only need putting in the oven as your guests are arriving so they are sure to be nice and hot for them.
Others are fully cooked and only need popping in the microwave for reheating.
Arancini Balls are a popular finger food, They are soft and crunchy balls at the same time.
These are so tasty and served with a good sauce on the side for dipping.
It is worth your time to make these.
Here's a quick and easy way to create delicious egg bites.
We cover making spinach and mozzarella, tomato, bacon, and cheddar cheese, ham and cheese , or kale and mushroom mini crustless quiches.
They are quick, easy and oh so tasty served either hot or cold.
Angels on horseback is a hot finger food or savoury made of bacon wrapped oysters.
These oysters with bacon are a luxurious party nibble and are so easy to make.
These Greek style Lamb and Feta Meatballs are an excellent finger food.
They are fantastic served either hot or cold along with it's own special dipping sauce.
This really is an easy meatballs recipe and the flavours will impress!
They are great as a party finger food or nibble.
These are delicious served hot or cold and presented on toothpicks for easy eating.
Easy Finger Food For Parties
If you don't have time or just cannot be bothered creating your own fingerfoods for your party, you can always use your local supermarket or deli for your catering needs.
Although most of these are available in the frozen foods section of your local supermarket, making your own with unique flavours will impress everyone.
Suggestions of easy finger foods available from the supermarket or deli are;
Miniature meat pies.
Sausage rolls.
Sausages on sticks.
Cheese and olives on sticks.
Chicken drumsticks or wings.
Spring rolls.
Miniature quiches.
Samosas.
Sandwiches.
Pitas or items in buns.
Hajjis.
Potato wedges.
Vol au vents.
Risotto balls (arancini).
Sliders.
Pizza.
Chips.
Hot dogs.
Fruit.
Bread.
Tips for Serving Party Finger Food
The only thing more fun than a party is one where finger foods are being served!
So you must serve it in a way so the whole experiece is enjoyable for your guests and easier for yourself.
Your guests won't have a fork, knife, or even a plate, here's some serving tips to make life easier.
When serving hot foods, it should only be warm.
You don't want your guests burning their mouths with piping hot food.
Always make sure the food can be eaten with one hand.
Your guests will probably already have a drink in their other hand.
Try to serve as much as you can on toothpicks or skewers.
This way your guests will not have to touch the food with their hands.
Some foods have to be eaten using hands.
Have napkins on hand in case your guests need to wipe.
Sauces and dips can sometimes be messy.
So once again always make napkins are available.
Make sure you have an easily accessible bin nearby.
You don't want everyone just dropping napkins and toothpicks all over the place.
All Finger Food Recipes
« Cooking Definitions