This braised pork belly recipe fits neatly into the family of melt-in-your-mouth slow braised pork belly dishes.
All the succulent, lusciousness of pork belly, with the stewy richness of doenjang.
This dish is a good source of essential amino acids, minerals, and vitamins.
Doenjang is a fermented soybean paste made of soybean and brine.
This dish has a more complex and distinct flavour, thanks to doenjang and fits in perfectly to the ketogenic diet.
The aroma itself is satisfying enough to make you eager to have a taste of this scrumptious meal.


Yield: Yield: 2 Serves
Braised Pork Belly Recipe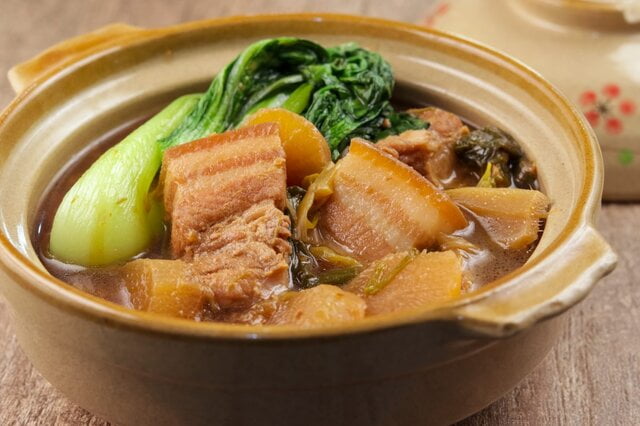 Here's a quick and easy way to create delicious slow braised pork belly.

This dish is more stewy and rich because it's been braised with a generous scoop of doenjang.
The result is a deeply flavoured sauce that clings and coats the pork belly. So good!

Prep Time 5 minutes

Cook Time 45 minutes

Total Time 50 minutes
Ingredients
300g Pork Belly
60g white Radish
12.5cm/5 inch Fresh Ginger
2 medium Spring Onions
1 Tbsp Doenjang Soybean Paste (See notes below)
100g Bok Choy
Instructions
Coarsely chop pork belly into 20mm/¾ inch cubes.
Peel and roughly chop radish.
Peel and thinly slice ginger.
Remove the roots and tops from the spring onion, then peel and cut into two or three pieces.
Combine all ingredients except for the bok choy in a pot.
Cover with water and bring to a boil. Reduce temperature and simmer for 45 minutes or until pork is tender.
Add bok choy and simmer for another minute.
Serve hot.
Notes
Important

Pork belly contains a lot of fat, so if it is not cooked long enough to render the fat, a lot of chewy fat can be left behind, making it tough.
Simmer it low and slow for the most tender results.

What do I serve with Korean Braised Pork Belly?
Braised Pork Belly begs to be spooned over rice.
Even when all the meat has been eaten, you can add the flavourful sauce to rice as a way of stretching the dish.
To cut the rich fattiness of the dish, I also like to serve rolled up as lettuce wraps.
A good kimchi is definitely a great side dish when serving this dish.
Compliment your braised pork belly with a side of Breakfast rice and 90 second microwve bread.
Braised Pork Belly Recipe Ingredient Substitutions
Pork

The pork can can be substituted with beef, lamb, chicken, fish, tofu or vegetables.

Substitutes for Doenjang

If you need doenjang for a Korean recipe but don't have any on hand, try these soybean-based substitutions.

Miso

Due to its similar flavour and texture, Japanese miso paste is the best substitute for doenjang.
Keep in mind that doenjang has a saltier, funkier flavour than miso.
You may need to use additional miso in your recipe or supplement it with salt or soy sauce.

Hoisin sauce

This thick brown sauce, made from fermented soybeans, garlic, chilies, and additional seasonings.
It is an excellent choice for replacing the sweet, savoury, and umami flavours of doenjang paste.
Recommended Celebrity Cookbooks
This post contains affiliate links. If you use these links to buy something we may earn a commission. Thanks.
Nutrition Information
Yield
2
Serving Size
1
Amount Per ServingCalories 454Total Fat 32gSaturated Fat 12gTrans Fat 0gUnsaturated Fat 19gCholesterol 126mgSodium 172mgCarbohydrates 3gFibre 1gSugar 1gProtein 36g

"These values are automatically calculated and offered for guidance only. Their accuracy is not guaranteed."