Our cauliflower mash recipe creates mashed cauliflower that's light, fluffy, and creamy all in the same bite.
Looking for that perfect substitute for a mashed potato that is low carb?
Try our cauliflower mash with cream cheese. It has a thick starchy consistency that is smooth and creamy.
This side dish is delicious and table ready in just 20 minutes, along with being healthy and definitely keto diet friendly!


Yield: Yield: 2 Serves
Mashed Cauliflower Recipe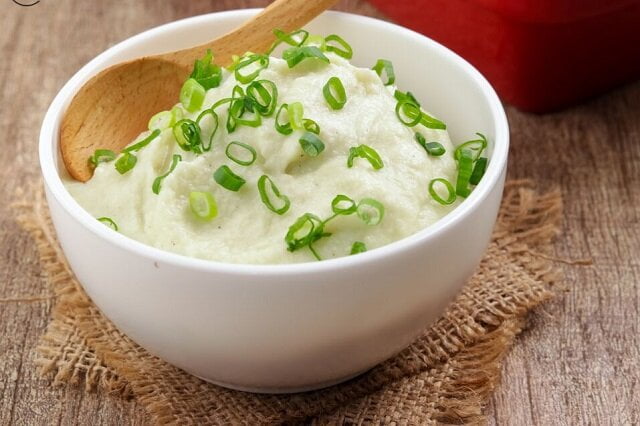 Here's a quick and easy way to create delicious mashed cauliflower.

Easier than mashed potatoes with less prep time and no peeling necessary, our mashed cauliflower recipe is light, creamy and smooth.
Full-flavoured and creamy in every single mouthful, you won't miss potatoes with this keto mashed cauliflower!

Prep Time 5 minutes

Cook Time 15 minutes

Additional Time 15 minutes

Total Time 35 minutes
Ingredients
4 cups Cauliflower florets
2 Tbsp Cream Cheese, softened
2 Tbsp Olive Oil
2 tsp minced garlic
Salt and Pepper, to taste
Instructions
Boil cauliflower for 10-15 minutes, or until very soft.
Drain and transfer to a food processor together with the rest of the ingredients.
Pulse until smooth.
Serve hot.
Notes
Important

Drain well. The MOST important step when making mashed cauliflower it to drain the cauliflower very well.
Any extra water will make the cauliflower watery and unappetizing.

What Goes Good with Cauliflower Mash

Serve Cauliflower Mash with everything from your favourite Steak to Roast Chicken, Schnitzel to Meatloaf with Gravy.

Cauliflower Mash Recipe Variations

Our mashed cauliflower recipe uses simple ingredients.
However, you can add your favourite ingredients to customise it to your tastes!
For example;

Spring onion -
Dice some spring onion into 6mm/¼ inch cubes, then saute (optional). Fold in after pulsing the other ingredients or just sprinkle on top when finished.
Parmesan -
Simply stir in some Parmesan cheese.
Oil —
You could substitute Olive oil with garlic or chili oils.
Herbs —
Maybe add a pinch of dried thyme, rosemary and parsley, or mixed herbs.
Chives -
Finely slice fresh Chives and add to pulsed ingredients.
Curry -
Add a bit of Curry powder before pulsing. This adds a curry kick to the flavour.
Bacon -
Chop and pan fry some bacon, Then fold it in to the pulsed ingredients.
This will add yummy flavour and a bit of crunch.
Recommended Celebrity Cookbooks
This post contains affiliate links. If you use these links to buy something we may earn a commission. Thanks.
Nutrition Information
Yield
2
Serving Size
1
Amount Per ServingCalories 226Total Fat 19gSaturated Fat 5gTrans Fat 0gUnsaturated Fat 13gCholesterol 13mgSodium 227mgCarbohydrates 12gFibre 6gSugar 6gProtein 6g

"These values are automatically calculated and offered for guidance only. Their accuracy is not guaranteed."