This classic stick-to-your-ribs beef stew with potatoes is the ideal dish for a chilly weekend.
All the flavours of this old fashioned beef stew recipe come together in cosy harmony.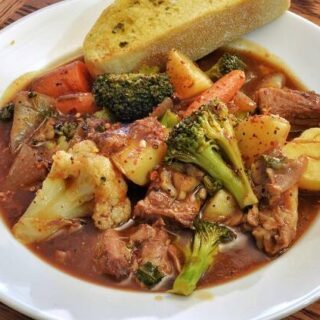 Old Fashioned Beef Stew Recipe
Yield: 8 x 150 gram serves.

Prep Time: 20 minutes

Cook Time: 1 hour 30 minutes

Total Time: 1 hour 50 minutes

Our Beef stew with potatoes has chunks of softened beef and vegetables in a thick sauce.
Nothing beats this classic, old-fashioned beef stew recipe.
Ingredients
900 g chuck steak
5¾ cups tomato juice
300 ml beef stock
½ cup flour
¼ cup vegetable oil
1 bay leaf
1 tsp marjoram
1 tsp oregano
4 large potatoes
4 large carrots
3 stalks of celery
1 medium onion
Instructions
Dice the beef into chunks about 2½ cm.
Put the beef and flour in a container, such as a plastic bag, and shake or squish until the beef is well-coated. Use more flour for a thicker stew, or less for a thinner stew. Set aside.
Peel the carrots, cut them into pieces about the same size as the beef. Set aside.
Cut the potatoes and celery likewise. Set aside.
Dice the onion into 1½ cm.
Put a small amount of oil into a Frying pan and heat it.
Caramelise the onion in the frying pan. Remove and tip into a large heavy base saucepan.
In several batches, brown the beef in the frying pan with the oil.
Put the beef, all the spices, tomato juice, and the stock in to the saucepan.
Cover the saucepan, then simmer for at least an hour to soften the beef.
Stir the stew every few minutes to prevent the beef from burning on the bottom of the saucepan.
Add the carrots to the stew, and simmer a bit more. (stirring every few minutes)
Add the onion, potato and celery, and simmer a bit more. (stirring every few minutes)
Simmer and stir for around 1½ hours or until all the vegetables are soft but not yet falling apart, remove the bay leaf and serve the stew.
Notes
Beef Stew Recipe Serving Suggestions
Serve with dumplings.
Have over buttered toast.
A plate of scones on the side are great for mopping up the gravy.
Yorkshire Puddings go well with stew.
Old Fashioned Beef Stew Recipe Variations
Lamb or chicken can be used instead of beef
Substitute celery with 1 cup sliced mushrooms.
Substitute celery with diced kumara/purple sweet potato and 3 chopped silverbeet leaves.
Instead of celery use a diced parsnip, ¼ cup frozen corn and ¼ cup peas.
Add 3 bacon rashers chopped into ¼" wide strips.
Recommended Celebrity Cookbooks
This post contains affiliate links. If you use these links to buy something we may earn a commission. Thanks.
Nutrition Information
Yield 8 Serving Size 1
Amount Per ServingCalories 588Total Fat 28gSaturated Fat 9gTrans Fat 1gUnsaturated Fat 17gCholesterol 108mgSodium 632mgCarbohydrates 48gFibre 5gSugar 8gProtein 39g