A traditional braised beef casserole recipe with thick, rich gravy – an ideal recipe for cheap cuts as this beef casserole is a slow cook recipe guaranteeing a tender dish.
When it's done the beef will fall-apart easily with a fork and should be rich in flavour and slightly thickened.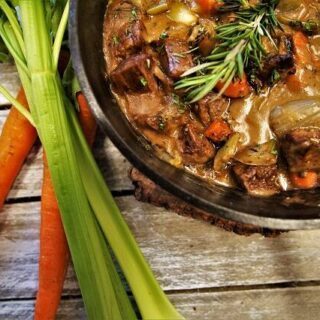 Easy Beef casserole
Yield: 8 x 150 gram serves

Prep Time: 20 minutes

Cook Time: 3 hours 30 minutes

Total Time: 3 hours 50 minutes

Looking for a delicious and healthy Meltingly Tender One-Pot Beef Casserole Recipe?
Everyone will love the results of this beef casserole slow cook recipe.

And hey, it's great served on a bed of creamy mashed potatoes or on buttered toast.
Ingredients
1 kg Chuck Steak
1/4 Cup Plain Flour
2 Tbsp Vegetable Oil
1 Large Onion
1 Bunch Silverbeet
2 Large Carrots
4 Cups Beef Stock
1 Bay Leaf
2 Sprigs Thyme
1/2 tsp Salt
1/2 tsp Black Pepper
Instructions
Preheat oven to 150℃
Trim fat off meat and cut into nice cubes about 5cm.
Chop onion.
Halve carrots lengthways then slice in to chunks.
Slice and dice the silverbeet.
Heat oil to low heat in a heavy based saucepan.
Add onion, carrots, bay and whole thyme sprig.
Soften for 10 mins, then stir in the flour until it doesn't look dusty anymore.
Gradually stir in beef stock.
Remove and place in a casserole dish with silverbeet.
Return pan to heat and add ¼ of the meat and quickly brown on all sides. Remove from heat and add to casserole dish.
Repeat with remaining meat, stirring in one quarter at a time.
Cover and put in the oven for 2½ hrs, then uncover and cook for 30mins – 1hr more until the meat is really tender and the sauce is thickened.
Notes
Beef Casserole Slow Cook
Beef Casserole in the slow cooker
Of course you can throw everything in a slow cooker on low setting for 8 hours or so.

Beef Casserole Recipe Serving Suggestions
Serve with grated tasty cheese sprinkled on top.
Serve on a bed of potato mash.
Serve with dumplings.
Serve rolled up in a Tortilla wrap.
Leftovers are good on toast.
Recommended Celebrity Cookbooks
This post contains affiliate links. If you use these links to buy something we may earn a commission. Thanks.
Nutrition Information
Yield 8 Serving Size 1
Amount Per ServingCalories 415Total Fat 26gSaturated Fat 9gTrans Fat 1gUnsaturated Fat 15gCholesterol 120mgSodium 471mgCarbohydrates 7gFibre 1gSugar 2gProtein 38g