Make from scratch authentic chicken tikka kebabs.
Create a traditional Indian cuisine in which the meat is marinated with yoghurt and spices, put on skewers and then grilled.
You will be making your own homemade marinade for chicken tikka.
It's not at all difficult to make tandoori chicken tikka at home. You don't even need a tandoor.
Below I'll share different techniques including, Broil/grill, BBQ, air fryer, dry-frying and oven baking for cooking, along with tips for preparation, how to serve chicken tikka, and more.
This recipe gets great results.
It tastes just like the fantastic chicken tikka you find at the best curry houses.
Make an easy, family-pleasing dinner and is also great as an appetiser.
What Is Chicken Tikka?
Indian chicken tikka is traditionally made by cooking small pieces of boneless, skinless chicken over a fire pit.
Chicken tikka is marinated in a mixture of yogurt and spices, including Garam Masala.
It can be served right from the skewer or added to a curry sauce.


Yield: Yield: 30 Skewers
Recipe For Chicken Tikka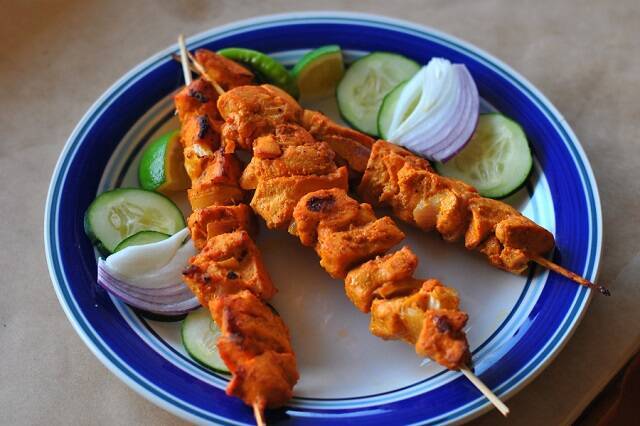 The recipe for chicken tikka that really delivers.
The marinade for chicken tikka in this Indian-style curry creates the perfect balance of spices and flavours.

It is traditionally cooked on skewers and served as both a main meal or appetiser.

Prep Time: 8 hours

Cook Time: 15 minutes

Total Time: 8 hours 15 minutes
Ingredients
1 kg skinless chicken breast fillet
30 bamboo skewers
Chicken Tikka Marinade Ingredients
1 Tbsp mustard seed oil
75 ml milk
175 ml natural yoghurt
2 Tbsp lemon juice
1 Tbsp tomato puree
2 Tbsp chopped fresh coriander leaves
4 large cloves of garlic
3 fresh red jalapeños peppers
2 tsp paprika
2 tsp garam masala
1 tsp cumin powder
½ tsp turmeric
1 tsp salt
Instructions
Place your bamboo skewers in a dish of water to soak.
Dice chicken into bite size cubes (2.5 to 3.25cm/1 to 1 1/2 inch), set aside.
Start the marinade for chicken tikka.
Finely chop coriander, garlic and jalapeños, set aside.
Add all of the ingredients except the chicken to a non-metallic mixing bowl and mix well.
Add the chicken and mix until fully coated.
Ideally, the chicken should now be left in a refrigerator to marinate for at least 8 hours. See Notes Below *
Place on skewers and cook in a tandoor or ceramic pot oven.
Otherwise you can Grill/Broil under a medium heat for 5-8 minutes on each side. See more alternative cooking methods below
Notes
* If you don't have time to marinate for 8 hours, use thigh fillets instead and marinate for 30 minutes.
Some people prefer to make tikka with meat on-the-bone for improved flavour.
Always ensure the chicken is cooked throughout before serving.
Important!
Soaking the skewers! Yes... please make sure you allow your wooden skewers to soak for around 15min, this stops them burning.

Alternative Cooking Methods
Cooking Chicken Tikka on The BBQ
Heat your Barbecue with a nice flame and place chicken skewers on the grill.
Brush with butter or olive oil, and cook approximately 6 minutes on each side, or until done, having nice grill/char markings.
Once you have cooked one side for 6 minutes, turn them over and brush with butter or olive oil, and cook 6 more minutes or until done.
Cooking Chicken Tikka In A Frying Pan
Heat your frying pan to a medium heat. and place chicken skewers on the grill.
Brush chicken skewers with butter or olive oil, and cook approximately 6 minutes.
Once you have cooked one side for 6 minutes, turn them over and brush with butter or olive oil, and cook 6 more minutes or until done.
Cooking Chicken Tikka In The Oven
Preheat your oven to 200℃/400℉. Pre-heat a sturdy parchment paper lined baking sheet.
Using tongs, place unskewered marinated chicken pieces onto the pre-heated baking sheet and return to the oven.
Cook for around 6 minutes. A timer is never a bad idea.
Flip each piece and return the baking sheet to the oven.
Continue to cook until the internal temperature of the chicken reaches 75ºC/165ºF.
This somewhere between 4-8 minutes. Total cooking time depends on how big your chicken pieces are.
When you've hit your target internal temp remove the chicken from the oven and set the chicken aside.
How to cook Chicken Tikka Kebabs in the Air Fryer
Lightly grease the air fryer basket.
Arrange the chicken sticks in airfryer
Cook at 180℃/350℉ for 10 minutes.
Turn the chicken sticks and cook for 7 more minutes, then serve.
Ingredient Substitutions
It is possible to make a tikka with almost any meat, the most commonly used other than chicken being lamb and mutton.
Powdered or dried ingredients can be substituted for fresh, but at the expense of taste.
What To Eat With Chicken Tikka

Looking for the perfect side dish to serve with your chicken tikka? We've got you covered!
Tikka can be served either as main meal or as an appetiser.

Here are our top choices for sides that pair well with chicken tikka and guarantee a tasty meal.

Pulao Rice;
Pulao rice is a fragrant, flavourful, and sometimes spicy Indian dish.
It's made with basmati rice and cooked with sautéed onions, garlic, ginger, tomatoes, and plenty of flavourful spices.

I find this to be the perfect accompaniment to chicken tikka, as it helps bring out all its delicious flavours.
For best results, serve it with a dollop of butter or ghee for a truly irresistible meal!
Chutney;
Chutneys are an essential part of the Indian cuisine, and there are endless varieties available on supermarket shelves.
They're also a great way to add flavour, spice, and colour to any dish.

So why not finish off your chicken tikka meal with a delicious chutney?
From sweet mango chutney to zesty tomato-based chatni, here's your chance to try some new and exciting flavour combinations!
Naan Bread;
Serve your succulent chicken tikka with a warm, fluffy naan bread.

Naan is made from an enriched dough– meaning it contains yoghurt, butter, and/or milk – which helps create its signature soft texture.

Brush the top with ghee or butter for added flavor, then bake the dough until it's golden brown. Enjoy!
Raita Yoghurt Salad;
Raita is a classic yoghurt-based Indian salad often served alongside dishes like chicken tikka.
For a creamy, cool raita that complements warm foods, mix together thick Greek yogurt, diced cucumbers, grated carrots, chopped fresh cilantro leaves, and add a pinch of ground cumin for extra flavour.

Sprinkle with sea salt and serve as a refreshing side dish to your chicken tikka.
Green Salad with a Vinaigrette Dressing;
A green salad is a great way to add a light, flavourful side to your meal.

Start by washing and drying some fresh lettuce and adding it to a bowl.
Then top with chopped vegetables such as cucumber, tomato, red onion, and bell peppers.

For the dressing, combine olive oil, white wine vinegar, garlic powder, oregano, lemon juice, salt and pepper in a jar with a tight fitting lid.
Shake until combined then pour over the salad just before serving for a delicious flavour boost!
Roasted Vegies;
Roasting seasonal vegies in the oven gives them a smoky flavour that's perfect for pairing with chicken tikka.

Vegetables like green beans, potatoes, sweet potatoes, brussels sprouts and carrots all work beautifully when roasted until golden and tender in an Indian spiced oil or sauce.
Tempting Flavours: 7 Delicious Chicken Tikka Recipes

Looking for a delicious and flavour-filled meal? Look no further than these seven chicken tikka recipes!

Take your weekly meal prep to the next level with these 7 amazing chicken tikka recipes. Get your taste buds ready for a flavour-packed experience!

Chicken Tikka Wraps
Ingredients
4 tortilla wraps
250g warm oven cooked chicken tikka cubes
Lettuce
1 red capsicum/bell pepper - Julienne cut
1/2 cucumber, thinly sliced
Tomato, thinly sliced
4 tbsp natural yoghurt or aioli sauce
To Assemble The Wraps
Lay the tortilla wraps out flat.
Spread yoghurt or any other sauce you may want to use over the tortilla.
Add a layer of chicken pieces
Add lettuce, capsicum, tomatoes and cucumber.
Try not to overfill the tortilla wraps.
Fold the tortilla wraps up and enjoy!
You could try using mango chutney in the wrap.
Chicken Tikka Skewers With Vegies

Adding a couple of sweet vegetables to your skewers helps increase the flavours.

Using the Chicken Tikka recipe above:
Dice some red capsicum and onion and mix in to the marinade with the chicken.
Slide them on to the skewers alternating chicken and vegies.
Now cook.
Chicken Tikka With Rice

Serve as a main with fragrant, fresh rice and naan, so it is nutritious and flavoursome.

400g warm oven cooked chicken tikka
140g long grain Rice
1 tbsp medium curry powder
50g frozen peas
1 small red pepper, diced
Some other ideas are: mushrooms or cherry tomatoes. You could even add pineapple chunks for a little sweetness.
Put the rice, curry powder, peas and pepper into a pan of boiling water.
Simmer for 10 mins or until the rice is just tender.
Drain well and divide the rice between 4 plates.
Add the chicken.
Serve with naan bread.
.

Chicken Tikka Sandwich

Serve cold in a sandwich or bread roll with your favourite salad ingredients.

Ingredients
8 slices bread or 4 bread rolls
250g cold oven cooked chicken tikka cubes
Lettuce
Tomato, thinly sliced
1/2 cucumber, thinly sliced
4 tbsp natural yoghurt or aioli sauce
To Assemble The Wraps
Lay the tortilla wraps out flat.
Spread yoghurt or any other sauce you may want to use over the bread.
Add a layer of chicken pieces
Add lettuce, tomatoes and cucumber.
Try not to overfill the sandwiches. Sometimes less is best.
Enjoy!
You could try using mango chutney in your sandwich.
Chili Lime Chicken Tikka Skewers

For a zesty kick, try these grilled chili lime skewers.

Marinate chicken breast in a mix of olive oil, garlic, chili powder, lime juice and ground coriander, for 8 hours.
Thread the chicken onto skewers and brush with some extra marinade for added flavour.
Grill and serve with your favourite chutney to complete this beautifully spiced dish!
Sri Lankan Masala-Style Marinated Chicken Breast Fillet

For a hearty, Sri Lankan-style take on chicken tikka.

Marinate the chicken breast for 8 hours in yoghurt, cinnamon and turmeric for an incredibly aromatic dish.
To add a kick of heat, throw in some finely chopped chilli flakes or cayenne pepper to give this classic Indian dish an elevated level of flavour.
Grill the fillet to perfection and complete it with some coconut chutney for a mouth-watering meal!
Maharaja-Style Boneless Tandoori Chicken Thighs
.
For an extra tender, juicy take on chicken tikka.

Marinate boneless chicken thighs in a yoghurt, garlic and ginger paste.
To add flavour and colour to your dish, use some Kashmiri chilli powder to really boost the aromatic notes of the marinade.
Grill the thighs for approximately 8 minutes until charred and golden on the outside, keeping them succulent on the inside!
Serve with some crispy poppadoms to complete this classic Indian epicurean delight.
Nutrition Information:
Yield: 30 Serving Size: 1
Amount Per Serving:Calories: 69Total Fat: 2gSaturated Fat: 0gTrans Fat: 0gUnsaturated Fat: 1gCholesterol: 29mgSodium: 109mgCarbohydrates: 1gFibre: 0gSugar: 1gProtein: 11g