This restaurant style chicken tikka masala sauce is rich and creamy, just like Indian takeaway.
Chicken tikka masala is a dish consisting of roasted marinated chicken chunks (chicken tikka) in a spiced sauce.
Tikka masala sauce has a tomato base and many different spices giving it a gentle earthiness and a mild heat.
The sauce is creamy and red-coloured.
The colour in this recipe comes from the tomato base.
The origin of this dish can be traced back to the 1970s when it was first introduced in Indian restaurants.
It has been called the national dish of Britain because it was invented by Bangladeshi chefs in an Indian restaurant in Birmingham, England.
The name chicken tikka masala was given by British people who were not familiar with Indian dishes and thought that it was just another variation of chicken tikka.


Yield: Yield: 4 x 200 gram serves
Recipe For Chicken Tikka Masala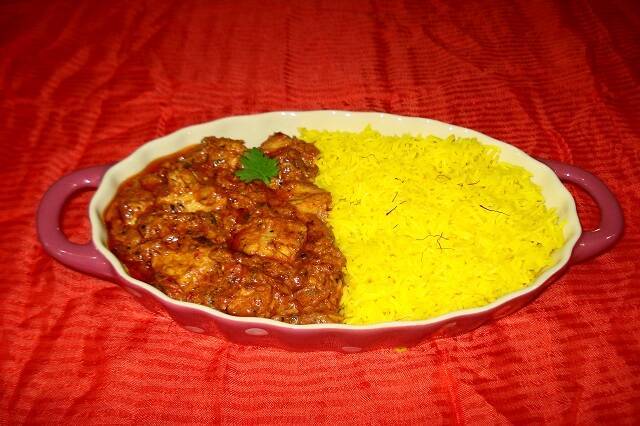 Chicken Tikka Masala made from scratch.
This amazing dish has the signature yoghurt marinated chargrilled chicken smothered in an incredible spice infused curry sauce.

Hands down this has to be the very best authentic chicken tikka masala sauce.
With aromatic golden chicken pieces swimming in an incredible creamy sauce, this recipe for chicken tikka masala is one of the best you will try!

Prep Time 15 minutes

Cook Time 10 minutes

Additional Time 8 hours

Total Time 8 hours 25 minutes
Ingredients
675 grams cooked Chicken Tikka
Tikka Masala Sauce Ingredients
2 Tbsp mustard seed oil
4 large cloves of garlic, finely chopped
200 grams onions, finely chopped (optional)
400 grams tinned, chopped tomatoes
1-4 fresh green chillis chopped
2 Tbsp chopped fresh cilantro (coriander leaves)
50 ml Cream
1 Tbsp malt vinegar (or tamarind extract)
2 Tbsp curry paste
2 Tbsp tandoori masala paste
1 Tbsp tomato paste
1 Tbsp garam masala
Instructions
Your cooked Chicken Tikka should be pre prepared using this recipe Chicken Tikka.
Heat the oil in a wok (if available, otherwise a large frying pan).
Add the garlic and onions (if using) and stir-fry until browned.
Add the curry pastes and mix well, adding a little water or yoghurt.
Add the cooked chicken tikka and stir-fry for two minutes to heat through.
Add the tomatoes, vinegar, tomato paste, and chilies and simmer for five minutes. Add more extra water if needed.
Add the cream, garam masala, and chopped cilantro and simmer for a few minutes.
Serve.
Notes
Important!
One thing I have noticed with recipies that call for spices is that the quality of the spices either make or break the recipe.

Especially Garam Masala. There are some versions that are full of flavourless fillers like paprika.
Also, if your spices are over 6 months old they begin to lose flavour. If your spices are 2-3 years old, they can be next to flavourless in a dish.

Try toasting some fresh whole spices and grinding them in a spice grinder. This should punch up your flavours.
Recipe Variations
You can use anywhere between 1 - 4 green chillies depending on strength of the Chillis and the desired strength of the sauce.
Vegan Chicken Tikka Masala;
Make these simple substitutions: chickpeas and carrots for the chicken and coconut milk for the cream.
Substitute coconut cream instead of standard cream and adds a new depth to it.
How To Serve Chicken Tikka Masala
Garnish with fresh coriander and serve with Naan bread, rice coloured yellow with turmeric, onion bahjis and/or a glass of white wine.
Serve with Basmati Rice and add a side of Homemade Flatbreads to mop up the sauce!
Make sure you have plenty of naan for serving, preferably garlic naan.
Serve immediately with rice, garnished with cilantro, if desired.
Serve with basmati rice flavoured with cumin seeds.
Recommended Celebrity Cookbooks
This post contains affiliate links. If you use these links to buy something we may earn a commission. Thanks.
Nutrition Information
Yield
4
Serving Size
1
Amount Per ServingCalories 1195Total Fat 70gSaturated Fat 21gTrans Fat 0gUnsaturated Fat 36gCholesterol 294mgSodium 2361mgCarbohydrates 54gFibre 8gSugar 17gProtein 89g