Looking for a Mexican-inspired soup to add some spice and variety to your dinner table?
This tasty Chicken Taco Soup recipe is an easy yet flavourful dish that can be on the table in no time!
Enjoy this simple meal and discover all the delicious goodness that is taco soup.
Do you have those cold weather soup craving?
You have to try this Chicken Taco Soup that's bursting with flavour and fillings.
In the winter this soup hits the spot. Hot and Spicy.
We have here a soup that is grain free, gluten free, keto friendly and low carb.
A hearty and healthy Keto Chicken Taco Soup that even the whole family will absolutely love, even if they are not watching their weight too!


Yield: Yield: 1 Serve
Chicken Taco Soup Recipe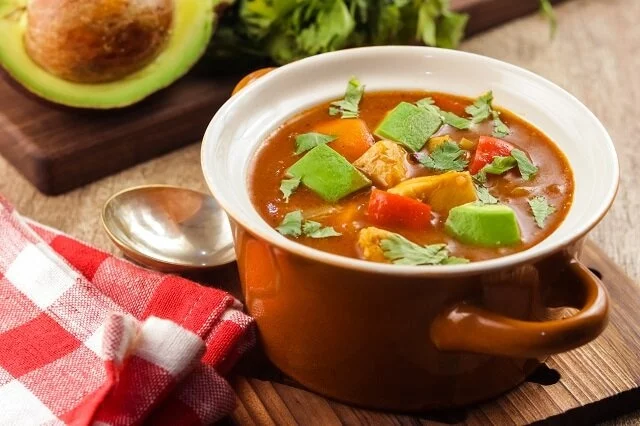 This chicken taco soup recipe makes Chicken tacos in soup form!
It combines chicken, spices and aromatics to create a spicy and warm meal for a cold night!

This Chicken Taco Soup is one of our favourite stove top meals.

Prep Time 10 minutes

Cook Time 15 minutes

Total Time 25 minutes
Ingredients
50g diced Chicken Breasts
2 Tbsp diced White Onion
1 Tbsp diced Red Capsicum
1 clove Garlic, crushed
1 Tbsp minced Jalapenos
1½ cups Chicken Stock
⅓ cup sugar-free Tomato Sauce
1 Tbsp Olive Oil
2 tsp Taco Spice Mix
50g diced Avocado
Fresh Cilantro for garnish
Instructions
Dice Chicken Breasts.
Sear chicken pieces slightly in olive oil.
Add garlic, onions, bell peppers, and jalapenos.
Saute until aromatic.
Add spice mix, stock and tomato sauce. Simmer for 10-15 minutes.
Ladle into a bowl and top with avocados and cilantro.
Notes
Refrigerating and Reheating Chicken Taco Soup

Yes, you can refrigerate and reheat chicken taco soup. To ensure food safety, the soup should be stored in an airtight container and be eaten within 3-4 days of refrigeration. When reheating leftovers, make sure to heat it to an internal temperature of at least 165 degrees Fahrenheit before eating or serving.

Freeze and Reheat Chicken Taco Soup for Quick Meal Options

Chicken Taco Soup can be frozen and reheated.
To freeze it for later, allow the soup to cool down completely before pouring into a freezer-friendly container or bag.
When ready to eat, thaw overnight in the fridge and then heat in the microwave or on the stove until heated through thoroughly.

What To Serve With Chicken Taco Soup

When serving Chicken Taco Soup, pair it with your favourite Mexican toppings for a complete meal!
Try adding extra diced avocado, crumbled queso fresco, sour cream or Greek yogurt, and lime wedges.

For an extra kick of flavour, top off the soup with a dollop of salsa or hot sauce.
You can also prepare a side salad or tray of tortilla chips to enjoy with your soup!

Serve your Chicken Taco Soup with something to add a balance of textures and flavours.
Perfect complements include chips, crispy smashed potatoes or tortillas for crunch.

Looking for something to dunk into your soup?
Try serving with a side dish of Keto cheese biscuits, buttered 90 second keto bread or these cheesy scones all go well with soups.
Buttered muffins will also provide the perfect contrast to the heat from the soup. Enjoy your meal!

Why not top with fried corn tortilla strips, if you're not worried about a few carbs or sprinkle some grated cheese over the top when serving.

Chicken Taco Soup Recipe Variations

If you're looking to switch up your Chicken Taco Soup, try adding different vegetables or herbs to the mix.

To create a southwestern-style Chicken Taco Soup, add canned diced tomatoes with, black beans and frozen corn!
Let your creativity shine and create your own dream taco soup!

For a slightly less sweet version, substitute the sauce with canned diced tomatoes.

If the heat from Jalapenos isn't your thing leave 'em out! Or halve the amount, if you only want a little spice.
Recommended Celebrity Cookbooks
This post contains affiliate links. If you use these links to buy something we may earn a commission. Thanks.
Nutrition Information
Yield
1
Serving Size
1
Amount Per ServingCalories 740Total Fat 28gSaturated Fat 5gTrans Fat 0gUnsaturated Fat 22gCholesterol 56mgSodium 1194mgCarbohydrates 97gFibre 6gSugar 79gProtein 29g