Craving a savoury and buttery treat that will leave your taste buds tingling?
Look no further than these delectable cheese biscuit recipes.
Whether you're a cheese enthusiast or simply looking for a new baking adventure, these recipes are sure to satisfy your cravings.
Imagine sinking your teeth into a warm, flaky biscuit oozing with melted cheese and bursting with flavour. Each bite takes you on a journey of bold and delightful tastes.
These biscuits are perfect for breakfast, brunch, or as a snack any time of the day.
Made from scratch with simple and wholesome ingredients, these cheese biscuits are easy to prepare and guaranteed to impress with their flaky and tender texture.
From classic cheddar to unique combinations like bacon and gouda, there's a recipe for every cheese lover.
Additionally we cover recipes for the Ketogenic Diet, gluten free diet and vegan diet.
So, grab your apron and get ready to indulge in cheesy goodness.
Whether you're hosting a gathering or simply treating yourself, these cheese biscuit recipes will elevate your culinary skills and leave everyone craving for more.
Get ready to bake your way to cheese heaven!
Why cheese biscuits are the perfect comfort food.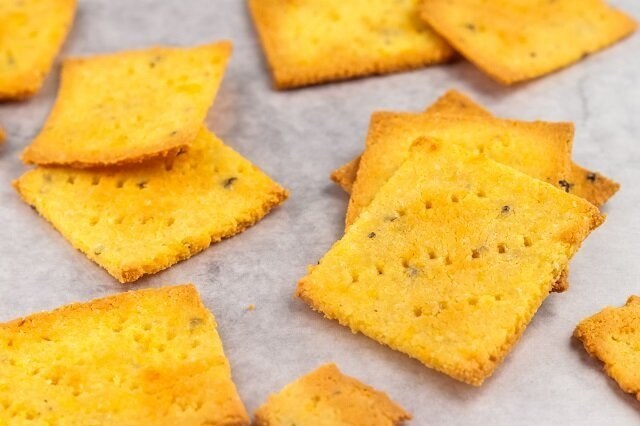 Cheese biscuits hold a special place in the hearts of many food lovers.
They are the epitome of comfort food, providing a warm and satisfying experience with every bite.
The combination of buttery biscuit dough and rich, melty cheese creates a heavenly texture and flavour that is hard to resist.
The appeal of cheese biscuits lies not only in their taste but also in the nostalgia they evoke.
Many of us have fond memories of enjoying cheese biscuits as children, whether it was at a family gathering or as an after-school snack.
The smell of freshly baked biscuits wafting through the air brings back a sense of warmth and familiarity.
Another reason why cheese biscuits are the perfect comfort food is their versatility.
They can be enjoyed on their own or paired with a variety of other dishes.
Whether you're serving them alongside a hearty soup, using them as a base for a breakfast sandwich, or simply enjoying them with a pat of butter, cheese biscuits add a touch of indulgence to any meal.
Different types of cheese to use in biscuit recipes.
When it comes to cheese biscuits, the type of cheese you choose plays a crucial role in determining the flavour and texture of the final product.
While cheddar is the most commonly used cheese in biscuit recipes, there are countless other options to explore.
Here are a few popular cheese choices and the unique characteristics they bring to your biscuits:
Tasty Cheddar:

Sharp and tangy, tasty cheddar cheese adds a robust flavour to biscuits.
It melts beautifully and pairs well with a variety of herbs and spices.

Parmesan:

Known for its nutty and salty taste, parmesan cheese lends a rich and savoury flavour to biscuits.
It also adds a delightful crunch when sprinkled on top.

Gouda:

With its creamy and slightly sweet profile, gouda cheese adds a subtle and smooth flavour to biscuits. It pairs well with ingredients like bacon and caramelized onions.

Blue Cheese:

For those who enjoy bold and intense flavours, blue cheese is the perfect choice.
Its distinctive sharpness adds a unique twist to traditional biscuit recipes.

Pepper Jack:

If you're looking to add a bit of heat to your biscuits, pepper jack cheese is the way to go. It combines the flavours of Monterey Jack cheese and spicy peppers for a delicious kick.
These are just a few examples, but the possibilities are endless.
Don't be afraid to experiment with different types of cheese to create your own signature biscuit recipe.
Now that we've covered the basics, let's dive into a classic cheese biscuit recipe that will never disappoint.


Yield: Yield: 6 biscuits
Traditional cheese biscuit recipe.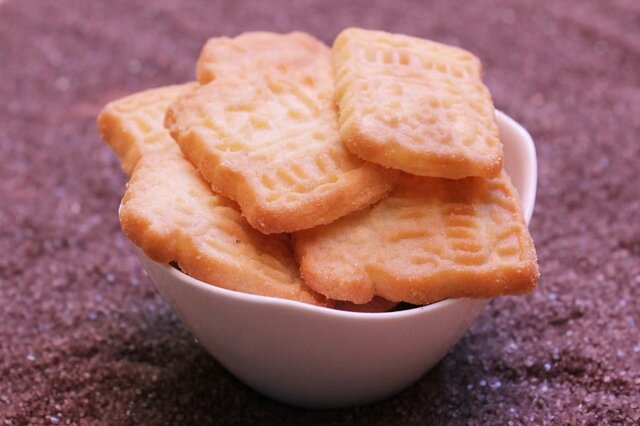 If you are looking for a delicious and classic recipe for cheese biscuits, I encourage you to try this step-by-step traditional cheese biscuits recipe. I am sure you will be happy with the results.

This recipe yields perfectly flaky and cheesy biscuits that are perfect for any occasion:

Prep Time 10 minutes

Cook Time 8 minutes

Total Time 18 minutes
Ingredients
2 cups plain (all-purpose) flour
1 tablespoon baking powder
1/2 teaspoon salt
1/2 cup unsalted butter, cold and cubed
1 cup grated cheddar cheese
3/4 cup milk
Instructions
Preheat your oven to 220°C (425°F) and line a baking sheet with parchment paper.
In a large bowl, whisk together the flour, baking powder, and salt.
Add the cold butter to the dry ingredients and use a pastry cutter or your fingertips to cut it into the flour until the mixture resembles coarse crumbs.
Stir in the grated cheddar cheese until evenly distributed.
Make a well in the centre of the mixture and pour in the milk.
Stir until the dough comes together.
Turn the dough out onto a lightly floured surface and knead it a few times until it becomes smooth.
Roll out the dough to a thickness of about 1/2 inch (1.3 cm) and use a biscuit cutter to cut out biscuits.
Place the biscuits on the prepared baking sheet, leaving a small gap between them.
Bake for 12-15 minutes, or until the biscuits are golden brown and cooked through.
Remove from the oven and let the biscuits cool slightly before serving.

Enjoy these warm and cheesy biscuits on their own or serve them with your favourite spreads or toppings.
Notes
Keto Cheese Biscuits Recipe.

These light and crispy cheese biscuits are so simple to make. The perfect snack that all the family will enjoy.

Here we have low carb keto biscuits that are so tender and fluffy, you won't believe they are flourless.
They take less than 20 minutes to make.

Ingredients:
¼ cup shredded Cheddar Cheese
3 Tbsp Almond Flour
1 Egg Yolk
pinch of Black Pepper
Instructions:
Preheat your oven to 220°C (425℉).
Combine all ingredients in a bowl and knead into a smooth dough.
Line a baking sheet with parchment paper.
Place dough in between sheets of parchment and flatten with a rolling pin.
Cut into serving-sized pieces and prick holes on the surface with a fork.
Transfer onto the prepared baking sheet and bake for 6-8 minutes.
Gluten-free and vegan cheese biscuit options.

If you have dietary restrictions or preferences, you can still enjoy the cheesy goodness of biscuits.

Here are a couple of options for gluten-free and vegan cheese biscuits:
Gluten-Free Cheese Biscuits:
Substitute the plain (all-purpose) flour with a gluten-free flour blend.
Make sure to choose a blend that is suitable for baking and contains xanthan gum or a similar binding agent.

Adjust the amount of liquid as needed, as gluten-free flours may require more or less moisture.
Follow the traditional recipe but make sure to use gluten-free ingredients for other components such as grated cheese and milk.
Vegan Cheese Biscuits:
Replace the butter with a vegan butter substitute or coconut oil. Make sure to use a solid fat that can be cut into the flour.
Use a plant-based milk alternative, such as almond milk or soy milk, instead of regular milk.

Opt for vegan cheese alternatives or use nutritional yeast for a cheesy flavour.
Follow the traditional recipe, making sure to substitute or omit any animal-based ingredients.

With these adaptations, everyone can enjoy the mouthwatering experience of cheese biscuits, regardless of dietary restrictions.

Variations on the classic cheese biscuit recipe.

While the traditional cheese biscuit recipe is undeniably delicious, there's always room for experimentation.

Here are a few variations on the classic recipe that will take your cheese biscuits to the next level:
Bacon and Gouda Biscuits:
Add cooked and crumbled bacon and grated gouda cheese to the dough for a smoky and savoury twist.
Jalapeno and Cheddar Biscuits:
Mix in finely chopped jalapenos and extra cheddar cheese for a spicy kick.
Rosemary and Parmesan Biscuits:
Incorporate fresh rosemary and grated parmesan cheese into the dough for a fragrant and flavourful combination.
Sun-Dried Tomato and Feta Biscuits:
Fold in chopped sun-dried tomatoes and crumbled feta cheese for a Mediterranean-inspired treat.

Feel free to get creative and experiment with different flavour combinations.
The possibilities are endless, and you might just discover your new favourite cheese biscuit recipe.

Tips for making the perfect cheese biscuits.

Making cheese biscuits is a relatively straightforward process.

But there are a few tips and tricks that can help ensure success:
Use cold butter:
It's crucial to use cold butter when making biscuits, as it creates steam pockets during baking, resulting in flaky layers.

Cut the butter into small cubes and keep it chilled until ready to use.
Grate your cheese:
Grating the cheese yourself ensures that it's evenly distributed throughout the dough.

It also allows for better melting and blending with the other ingredients.
Handle the dough gently:
Overmixing or handling the dough too much can lead to tough biscuits.

Mix the ingredients until just combined, and avoid kneading the dough excessively.
Chill the dough:
If the dough becomes too soft or sticky, pop it in the refrigerator for 15 minutes to firm it up.

This will make it easier to work with and result in taller biscuits.
Bake at the right temperature:
Preheat your oven properly and bake the biscuits at the recommended temperature.

This ensures even browning and a fully cooked interior.

By following these tips, you'll be well on your way to baking the perfect batch of cheese biscuits every time.

Serving suggestions and accompaniments for cheese biscuits.

Cheese biscuits are delicious on their own, but they can also be paired with a variety of spreads, toppings, and accompaniments to take them to the next level.

Here are a few ideas to get you started:
Butter and Jam:
Spread a pat of butter and your favourite jam on a warm cheese biscuit for a simple and delightful treat.
Honey and Goat Cheese:
Drizzle honey over a split cheese biscuit and top it with creamy goat cheese for a sweet and tangy combination.
Egg and Bacon:
Transform your cheese biscuit into a breakfast sandwich by adding a fried egg and crispy bacon.
Pimento Cheese:
Slather a generous amount of homemade pimento cheese on a cheese biscuit for a Southern-inspired snack.
Soup or Stew:
Serve cheese biscuits alongside a hearty soups or stews for a comforting and satisfying meal.
Caesar salad and garlic croutons:
Cheese biscuits pair well with Caesar salad and garlic croutons.
The richness and savouriness of the cheese biscuits complement the creamy and tangy flavours of the salad and croutons.

The flaky texture of the biscuits also provides a nice contrast to the crisp lettuce and crunchy croutons.

Feel free to get creative and experiment with different flavour combinations and toppings.
The versatility of cheese biscuits makes them a perfect canvas for your culinary imagination.

Cheese biscuit recipes from around the world.

While cheese biscuits are often associated with Southern cuisine, they have variations in different parts of the world.

Here are a few international cheese biscuit recipes to expand your culinary horizons:
Brazilian Cheese Bread (Pão de Queijo):
These bite-sized cheese bread balls from Brazil are made with tapioca flour, cheese, eggs, and oil.

They have a delightful chewy texture and a cheesy flavour that is hard to resist.
British Cheese Scones:
Similar to biscuits, British cheese scones are made with flour, butter, baking powder, and grated cheese.

They are typically served with tea and often enjoyed with a dollop of butter or cream cheese.
Italian Parmesan Biscuits:
These crispy and cheesy biscuits from Italy are made with parmesan cheese, flour, butter, and egg yolks.

They are perfect for snacking or as an accompaniment to antipasti.
Indian Cheese Biscuits:
In India, cheese biscuits are often flavoured with spices like cumin, chilli powder, and turmeric.

They are a popular tea-time snack and pair well with a cup of masala chai.

By exploring cheese biscuit recipes from different cultures, you can expand your culinary repertoire and discover new flavours and textures.

Conclusion:
Enjoying cheese biscuits as a versatile and delicious treat.

In conclusion, cheese biscuits are a delightful treat that combines the comforting flavours of buttery biscuits and melted cheese.
If you stick to the classic cheddar or venture into more adventurous flavour combinations, these biscuits are sure to satisfy your cravings.

Whether you enjoy them on their own, paired with your favourite spreads or toppings, or as a side to a hearty meal, cheese biscuits are a versatile and delicious treat that can be enjoyed any time of the day.

So, grab your apron, gather your ingredients, and get ready to bake your way to cheese heaven.
With these recipes and tips in hand, you'll be well-equipped to create the perfect cheese biscuits that will leave everyone craving for more.
Recommended Celebrity Cookbooks
This post contains affiliate links. If you use these links to buy something we may earn a commission. Thanks.
Nutrition Information
Yield
6
Serving Size
1
Amount Per ServingCalories 228Total Fat 22gSaturated Fat 13gTrans Fat 0gUnsaturated Fat 7gCholesterol 62mgSodium 559mgCarbohydrates 3gFibre 0gSugar 2gProtein 5g

"These values are automatically calculated and offered for guidance only. Their accuracy is not guaranteed."