Are you craving for a meal that is rich in flavour and easy to cook? Then this Florentine Chicken will definitely satisfy you!
This Creamy Chicken Florentine is pure comfort food for days when you crave a good, warm meal.
It takes 30 minutes, has less than eight ingredients and the creamy Florentine sauce mixed with spinach will have your entire family raving about it.
You can prepare this hearty Florentine chicken meal even if you struggle with cooking.
This chicken with florentine sauce is perfect to serve during dinner with your loved ones, or is great to present to your guests.
It is so flavoursome that you'd never believe that it is gluten free and ketogenic diet friendly.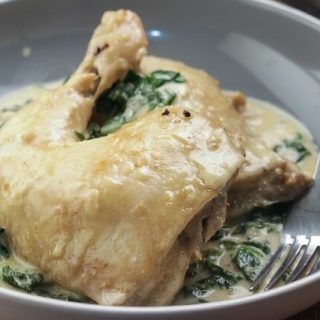 Chicken Florentine Recipe
Yield: Yield:1 Serve

Prep Time: 10 minutes

Cook Time: 20 minutes

Total Time: 30 minutes

This recipe for chicken Florentine has pan-seared thigh, topped with a creamy, spinach sauce.
A classic dinner that will have you licking your plate.

Chicken Florentine is great served with mashed potatoes and I love the buttery, creamy combination of mashed potatoes and that creamy spinach Florentine sauce.
Ingredients
1 Chicken leg quarter
1 Tbsp Butter
1 Tbsp minced shallots/spring onions
1½ cups chicken stock
2 Tbsp Heavy Cream
1 cup diced fresh spinach
Salt and Pepper, to taste
Instructions
Melt butter in a pan then sprinkle shallots.
Add chicken on top of the shallots. Season with salt and pepper.
Add enough stock to barely cover the chicken. Bring to a simmer.
Cover and Poach over low heat for 20-25 minutes.
Take chicken out of the pan and set aside.
Reduce pan juices to approximately a quarter of a cup.
Add spinach and heavy cream. Simmer over low heat until sauce is slightly thick.
Return chicken into the pan.
Serve hot.
Notes
I prefer to use fresh spinach, as the flavour and texture are much better than frozen.
Frozen spinach will work if it's what you already have on hand.

You can use thin cut chicken breasts for this recipe, simply because they cook quickly and evenly.
Some of those giant thick chicken breasts can take ages to cook through.

This recipe will also work with boneless skinless chicken thighs.

What To Serve With Chicken Florentine
There is so many ideas on what to serve with this wonderful dish,
Here are some popular sides for chicken florentine.

Chicken Florentine with Rice;
Serve it with Brown Rice.
It mops things up and is simply a tasty and effective pairing.
Chicken Florentine and Mash;
Mashed potatoes or sweet potato are perfect as a side with this dish.
It's great for mopping up that yummy Florentine sauce.
Chicken Florentine with Pasta;
Create a simple chicken Florentine with pasta by serving with a side of instant gnocchi.
Or
Stir half a cup of cooked Al dente macaroni elbows through your sauce.
Chicken florentine With Asparagus;
Substitute the Shallots/spring onions with canned Asparagus Spears.
Or
A side of Asparagus Spears with hollandaise sauce is very tasty.
Chicken Florentine with Vegetables
If looking for a healthier side dish, try Side Salads, sautéed kale, or steamed vegetables.
Recipe Variations

Here are 5 great ways to change the textures and flavours using ingredient substitutions and add-ins.

Pork Florentine
Substitute the chicken for boneless pork chops.
Add Italian Herbs;
Add ½ tsp of mixed Italian herbs to the pan with the spring onions.
This will not only add and release nice aromatics but it is there for flavour as well.
Add Mushrooms;
You can add mushrooms to this recipe if you want, it'll be delicious.
Dice 6 large meaty portobella mushrooms and add with the spinach and cream.
Use White Wine
For a slightly different flavour, swap half the chicken stock for white wine.
Include Some Cream Cheese;
Add 2 Tbsp of cream cheese when adding the cream.
This will add a very mild cheese flavour to the dish and helps it thicken slightly as it cools.
Recommended Celebrity Cookbooks
This post contains affiliate links. If you use these links to buy something we may earn a commission. Thanks.
Nutrition Information
Yield 1 Serving Size 1
Amount Per ServingCalories 828Total Fat 50gSaturated Fat 22gTrans Fat 1gUnsaturated Fat 24gCholesterol 403mgSodium 1190mgCarbohydrates 18gFibre 1gSugar 8gProtein 73g