This fudge brownies recipe creates brownies with dense, fudgy middles, crinkly tops, and absolutely delivers.
They contain more cocoa than cake-like brownies and as a result they are slightly more bitter and have a more "dark chocolate" taste.
I love brownies that are rich and extra chocolaty.


Yield: Yield: 16
Chocolate Fudge Brownies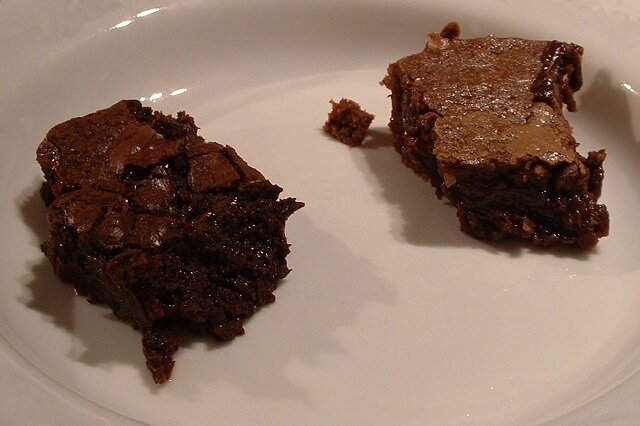 These chocolate fudge brownies are so decadent and rich in flavour with perfectly sweet, deep, bittersweet chocolate flavour.
And they also keep really well in the fridge (in an air-tight container).
It's a great fudge brownies recipe for beginners too!

Prep Time 10 minutes

Cook Time 25 minutes

Total Time 35 minutes
Ingredients
110 grams plain flour
110 grams unsalted butter
280 grams granulated sugar
2 large, cold eggs
170 grams cocoa
¼ tsp. salt
1 tsp. vanilla essence
Instructions
Preheat oven to 160°C (325°F).
In a saucepan, melt butter over low heat.
Slowly stir in sugar, making sure it is completely dissolved.
Stir in cocoa and remove from heat.
Add vanilla.
Stir in salt and mix until even.
Whisk eggs together in a separate bowl, then add to the mixture and stir well.
Add flour and stir until all of the flour is incorporated and the batter is an even colour.
Stir well for at least another 50 strokes.
Pour into a an 8"×8" pan lined with aluminum foil, leaving plenty of overhang on both sides.
Bake for about 25-30 minutes (the time varies depending on your pan type and your individual oven).
To tell when brownies are done, use a toothpick, stick it into the center, and pull it out.

The brownies need more time if there is wet batter on the toothpick.
If there are a few moist crumbs on the toothpick, the brownies are done.
Remove from the oven and let it cool down to room temperature.
Remove the brownies from the pan and let them chill in the fridge for a couple of hours.
(chilled brownies are easier to cut).See Notes.
Cut the brownies into 16 pieces.
Use a warm knife to cut, making sure to clean the blade after each cut for clean, neat edges.
Notes
For the best results, refrigerate the brownies until they are cooled completely.

Use the foil hanging over the edges as handles to remove the baked brownies from the pan (this requires some care as the brownies are not solid at this point).
Fold the foil over the top so that the brownies are covered top and bottom with foil, and then put the whole thing in the refrigerator until cooled (feel the bottom center if you aren't sure).

This prevents the edges from overcooking while allowing the center to finish baking and cool. If you omit this step, you may end up with an undercooked center and/or overcooked edges.
Fudge Brownie Recipe Variations
For the real chocolate lover, crumble about 50 grams of a dark chocolate bar (one with about 70% cocoa content) into the batter and stir it lightly right before pouring the mixture into the baking pan.
You may need to add a few minutes to the baking time.
Instead of adding vanilla, try adding about 100 grams (4 oz) of fresh raspberries; their sharpness goes very well with the richness of the chocolate.

Half fill the tin with batter, sprinkle the raspberries over the mixture, then pour on the rest.
Add ½ cup chopped walnuts or other nuts when stirring flour in.
Try our Chocolate Cake Brownies.
Fudge Brownie Serving Suggestions
Cut a brownie in half lengthwise and eat it with ice cream in the middle like an ice cream sandwich.
Recommended Celebrity Cookbooks
This post contains affiliate links. If you use these links to buy something we may earn a commission. Thanks.
Nutrition Information
Yield
16
Serving Size
1
Amount Per ServingCalories 195Total Fat 7gSaturated Fat 4gTrans Fat 0gUnsaturated Fat 2gCholesterol 38mgSodium 46mgCarbohydrates 29gFibre 2gSugar 18gProtein 4g