Looking for a quick and tasty dinner option? Look no further than this easy mushroom stroganoff recipe.
With its rich and creamy sauce, it's the perfect dish for busy weeknights when you want something delicious without spending hours in the kitchen.
This classic mushroom stroganoff is a vegetarian version of the traditional beef stroganoff. It features sautéed mushrooms in a creamy sauce made with sour cream, onions, and garlic.
The versatility of the dish is also a factor in its popularity, as you can customise it.
Mushroom lovers, rejoice! I also show you 6 mouthwatering mushroom stroganoff recipe variations that are easy to make and perfect for a cosy dinner.
Overall, mushroom stroganoff is loved by many for its simplicity, taste, and ability to please both vegetarians and meat-eaters alike.
Get cooking tonight!


Yield: 1 Serve
Easy Mushroom Stroganoff Recipe for a Quick Weeknight Dinner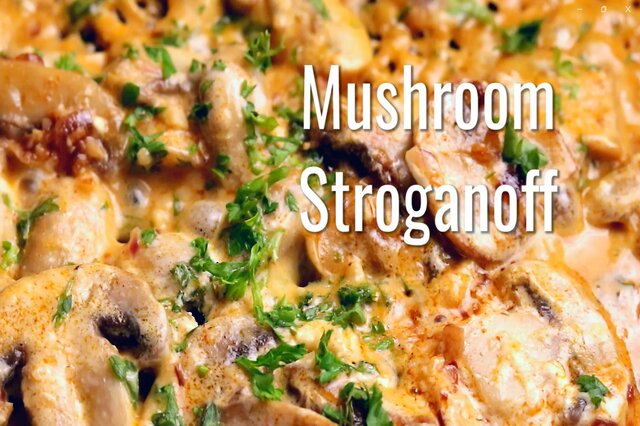 You will be surprised how this restaurant-level dish takes no more than 15 minutes to make.

The name may sound like it took you hours to cook it but it's one of the best easy-to-make meals. You will be more than satisfied with this scrumptious dish.

Prep Time 5 minutes

Cook Time 10 minutes

Total Time 15 minutes
Ingredients
75 grams Button Mushrooms
20 grams Spring Onions/Shallots, minced
1 tbsp Butter
1 clove Garlic, minced
1 tsp Paprika
¼ tsp Salt
2 tbsp Sour Cream
1 tbsp Chopped Parsley
Instructions
Cook the mushrooms and onions.
In a large skillet, heat the butter over medium heat. Add the sliced mushrooms and spring onions/shallots to the skillet and cook until they are tender and slightly browned, about 2-3 minutes.

Stir occasionally to ensure even cooking.
Add the garlic and seasonings.
After cooking the mushrooms and onions, it's time to add the salt, garlic, and paprika to enhance the flavour of your mushroom stroganoff.

Stir everything together and let it cook for another minute to allow the flavours to meld together and become aromatic.
The aroma will be irresistible!
Make the sauce.
Start by adding the sour cream to the pan and stir for another minute.
This will help give your stroganoff a creamy and velvety texture.
You're done.
Top with chopped parsley and your mushroom stroganoff is now complete and ready to be enjoyed!
Notes
What to eat with mushroom stroganoff

Looking for the perfect accompaniment to your mushroom stroganoff? Check out these delicious side dish ideas that will complement the rich flavors of this classic dish.

Remember, the key is to choose a side dish that complements the flavours and textures of the mushroom stroganoff while adding variety and balance to the meal. Experiment with different options to find your favorite combination!

Egg Noodles.
Egg noodles are a classic pairing with mushroom stroganoff.
Their soft and chewy texture complements the creamy sauce and hearty mushrooms perfectly.

Plus, they help soak up all the delicious flavours of the stroganoff.
Rice.
If you prefer a gluten-free option or simply want to switch things up, rice is a great choice to serve with mushroom stroganoff.

Whether it's fluffy white rice or nutty brown rice, it provides a neutral base that allows the flavours of the stroganoff to shine.
Mashed Potatoes.
For a comforting and filling meal, serve mushroom stroganoff over a bed of creamy mashed potatoes.

The creamy texture of the potatoes pairs well with the rich and savoury flavours of the stroganoff, creating a satisfying combination.
Crusty Bread.
If you're looking for a quick and easy option, crusty bread is a fantastic choice to accompany mushroom stroganoff.

Use it to soak up the creamy sauce and enjoy the contrast of the crispy bread with the tender mushrooms.
Roasted Vegetables.
Add some color and nutrition to your meal by serving mushroom stroganoff alongside a medley of roasted vegetables.

Roasted carrots, Brussels sprouts, or Asparagus Spears provide a delicious contrast to the creamy stroganoff and add a touch of freshness to the dish.
Salad.
Balance out the richness of mushroom stroganoff with a refreshing salad.

A simple green salad with a tangy vinaigrette or a crisp cucumber and tomato salad can provide a light and refreshing element to the meal.
Steamed Greens.
For a healthy and nutritious option, Steaming greens such as broccoli, spinach, or kale make a great accompaniment to mushroom stroganoff.

Their vibrant colours and tender texture add a fresh and vibrant element to the dish.
6 Delicious Mushroom Stroganoff Recipes to Try Tonight

Craving a hearty and flavourful meal? These 6 mushroom stroganoff recipes are sure to satisfy your taste buds.

Spice up your mushroom stroganoff game with these creative variations.
Whether you're a vegetarian, vegan, or simply looking to switch up your stroganoff recipe, these mushroom stroganoff variations are sure to satisfy your cravings.

Experiment with different ingredients and flavours to create your own unique twist on this classic dish.

Vegan Mushroom Stroganoff;
For those following a vegan diet, a vegan mushroom stroganoff is a great alternative.

Instead of sour cream, use a plant-based alternative like cashew cream or coconut milk to achieve a creamy texture.
Add in some vegan Worcestershire sauce for a tangy flavour and serve it over your favourite pasta or rice.
Mushroom and Tofu Stroganoff;
For a protein-packed twist on the classic, add some tofu to your mushroom stroganoff.

Sauté cubes of tofu along with the mushrooms and onions for added texture and flavour.

The tofu will absorb the delicious sauce, making each bite even more satisfying.
Mushroom and Spinach Stroganoff;
To add some extra greens to your stroganoff, incorporate spinach into the dish.

Sauté the mushrooms, onions, and garlic, then add in a handful of fresh spinach leaves.
Let them wilt down before adding the sour cream or vegan alternative.

The spinach adds a pop of color and nutrients to the dish.
Mushroom and Wild Rice Stroganoff;
For a heartier version of mushroom stroganoff, add wild rice.
The nutty flavour of the rice pairs perfectly with the earthy mushrooms and creamy sauce.

Cook the wild rice separately and then mix it into the stroganoff just before serving.
Mushroom and Port Wine Stroganoff;
For a touch of elegance, add a splash of port wine to your mushroom stroganoff.
The rich and fruity flavours of the wine complement the earthiness of the mushrooms beautifully.

Simmer the mushrooms in the port wine before adding the sour cream or vegan alternative for a luxurious twist.
Mushroom and Truffle Oil Stroganoff;
For a truly indulgent variation, drizzle some truffle oil over your mushroom stroganoff.
The earthy and aromatic truffle oil adds a luxurious touch to the dish.

Use it sparingly as a finishing touch to enhance the flavours of the mushrooms and creamy sauce.
Recommended Celebrity Cookbooks
This post contains affiliate links. If you use these links to buy something we may earn a commission. Thanks.
Nutrition Information
Yield
1
Serving Size
1
Amount Per ServingCalories 220Total Fat 17gSaturated Fat 10gTrans Fat 1gUnsaturated Fat 5gCholesterol 45mgSodium 694mgCarbohydrates 16gFibre 5gSugar 7gProtein 4g

"These values are automatically calculated and offered for guidance only. Their accuracy is not guaranteed."