Are you tired of sacrificing taste and satisfaction for a healthy breakfast? Look no further!
Introducing low carb oatmeal, the perfect solution for a nutritious and delicious morning meal.
Packed with essential nutrients, the base of this low carb oatmeal alternative is coconut Flour, coconut flakes and chia seeds.
This means no oats, grains, or wheat, but you'd never tell.
It resembles real oats, but tastes better and is healthier, this breakfast option provides a satisfying and filling experience without the carb overload.
Whether you're following a low carb diet or simply looking to make healthier choices, this low carb keto oatmeal is here to revolutionise your breakfast routine.
Say goodbye to bland and boring alternatives, and say hello to a bowl of goodness that will keep you energized and focused throughout the day.


Yield: Yield: 1 Serve
How to make low carb oatmeal at home.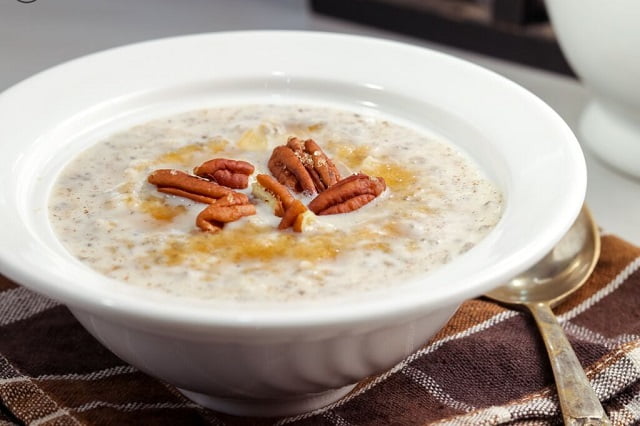 Craving a warm and comforting bowl of oatmeal but following a low carb diet? Look no further! Discover how to make delicious low carb oatmeal at home with this easy recipe.

Prep Time 5 minutes

Cook Time 30 seconds

Total Time 5 minutes 30 seconds
Ingredients
2 Tbsp Coconut Flour
2 Tbsp Coconut Flakes
1 Tbsp Chia Seeds
⅔ cup Almond Milk
½ Tbsp Brown Sugar Erythritol
¼ tsp Cinnamon
Instructions
Stir together all the ingredients in a bowl.
You can serve immediately if you like, but it is better to refrigerate overnight, or refrigerating it for at least four hours to thicken and become creamy.
Top with chopped pecans and serve, or if you prefer to have hot, microwave the oatmeal for 30-40 seconds until warm, add your mix-ins, and enjoy.
Notes
Delicious Low Carb Oatmeal Toppings to Try Today

Looking for delicious low carb oatmeal toppings? Check out this list of tasty options that will satisfy your cravings without breaking your diet!

Apple Cinnamon;
Top oats with ½ cup of chopped apples and a sprinkle of extra cinnamon.
You can also add some chopped apples to the oats while they're cooking for even more apple flavour.
Banana Nut;
Top oats with banana slices, 2 tablespoons of toasted walnuts, ½ tablespoon of peanut butter dollop.
You can also add the banana slices during the heating process.
The banana will add a ton of flavour to the oatmeal along a bit of sweetness.
Berry Almond;
Top cooked oatmeal with ¼ cup fresh berries, 2 tablespoons of chopped roasted almonds and 1 tablespoon of chocolate chips.
Fresh Berries;
Top your low carb oatmeal with a handful of fresh berries like strawberries, blueberries, or raspberries.
They add a burst of sweetness and are packed with antioxidants.
Chia Seeds;
Sprinkle some chia seeds on your oatmeal for added texture and a boost of omega-3 fatty acids.
They also help to keep you feeling full for longer.
Almond Butter;
Add a dollop of almond butter to your oatmeal for a creamy and nutty flavour.
It's a great source of healthy fats and protein.
Cinnamon;
Sprinkle some cinnamon on your oatmeal for a warm and comforting taste.
It also has anti-inflammatory properties and can help regulate blood sugar levels.
Coconut Flakes;
Toasted coconut flakes add a tropical twist to your low carb oatmeal.
They also provide healthy fats and fibre.
Greek Yoghurt;
Spoon some Greek yogurt on top of your oatmeal for a creamy and tangy addition.
It's high in protein and adds a satisfying texture.
Nuts;
Chop up some nuts like almonds, walnuts, or pecans and sprinkle them on your oatmeal.
They add a satisfying crunch and are a great source of healthy fats.
Unsweetened Cocoa Powder:;
Mix in some unsweetened cocoa powder to your oatmeal for a rich and chocolatey flavour.
Flaxseeds;
Add some ground flaxseeds over your oatmeal for a boost of fibre and omega-3 fatty acids.
They have a slightly nutty taste and help promote a healthy digestive system.
Coconut Milk;
Instead of using regular milk, try pouring some coconut milk over your oatmeal.
It adds a creamy and tropical taste while keeping it dairy-free and low carb.
FAQs about low carb oatmeal

Wondering if low carb oatmeal is right for you? Find answers to the most common questions about this nutritious and satisfying breakfast option in this FAQ list.


Is low carb oatmeal suitable for a ketogenic diet?
While oatmeal is generally not considered keto-friendly due to its higher carb content, you can still enjoy a low carb version of oatmeal on a ketogenic diet.

By using low carb ingredients like coconut flour, coconut flakes and chia seeds, you can create a breakfast option that fits within your keto macros.
Can I eat low carb oatmeal if I have gluten intolerance or celiac disease?
If you have gluten intolerance or celiac disease, it's important to choose certified gluten-free oats or oatmeal alternatives.
While oats themselves don't contain gluten, they may be cross-contaminated with gluten during processing.

The recipe on this page is gluten-free to ensure it is safe for consumption.
Can I make low carb oatmeal in advance and store it for later?
Yes, you can prepare low carb oatmeal in advance and store it in the fridge or freezer for later consumption.
Create a larger batch of oatmeal and divide it into individual portions.

Store the portions in airtight containers and refrigerate for up to a few days or freeze for longer storage.
When ready to eat, simply reheat and add your desired toppings.
Can I use regular oats instead of low carb alternatives?
If you're not following a strict low carb diet and prefer the taste and texture of regular oats, you can still incorporate them into your breakfast routine.

However, keep in mind that regular oats are higher in carbs and may not provide the same low carb benefits as the alternative recipe in this article.
Recommended Celebrity Cookbooks
This post contains affiliate links. If you use these links to buy something we may earn a commission. Thanks.
Nutrition Information
Yield
1
Serving Size
1
Amount Per ServingCalories 245Total Fat 11gSaturated Fat 5gTrans Fat 0gUnsaturated Fat 6gCholesterol 0mgSodium 52mgCarbohydrates 31gFibre 7gSugar 17gProtein 6g

"These values are automatically calculated and offered for guidance only. Their accuracy is not guaranteed."