Perfect hot or cold. Enjoy it warm or overnight oats style, directly from the refrigerator.
The base of this breakfast oatmeal is coconut Flour, coconut flakes and chia seeds.
This means no oats, grains, or wheat, but you'd never tell.
It resembles real oats, but tastes better and is healthier.
Create a creamy and healthy meal, this dish will make you want to eat more. and it's perfect for keto, low carb and gluten free diets.
It's tasty with the brown sugar and cinnamon flavours sitting in the background perfectly.
So make sure to add this dish to your meal planning next time!
Easy to meal prep. Make up to a week's worth of breakfasts in advance!


Yield: Yield: 1 Serve
Low Carb Oatmeal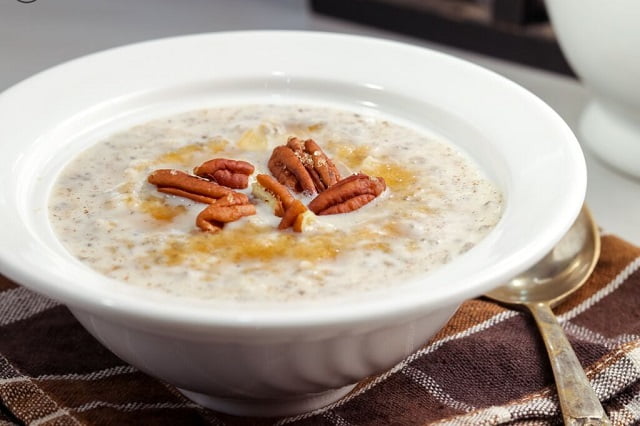 If you are like most people and don't have a lot of meal prep time in the morning this low carb oatmeal recipe can actually be prepared the night before.

Use the oatmeal mix-in ideas such as strawberries and cream, chocolate peanut butter, almond joy, mixed berry and double chocolate. The healthy oatmeal toppings include, apple cinnamon, banana nut and berry almond.

These Keto Brown Sugar and Cinnamon Breakfast Oats can even be prepared in batches so you can just grab and go in the morning.

Prep Time 5 minutes

Total Time 5 minutes
Ingredients
2 Tbsp Coconut Flour
2 Tbsp Coconut Flakes
1 Tbsp Chia Seeds
⅔ cup Almond Milk
½ Tbsp Brown Sugar Erythritol
¼ tsp Cinnamon
Instructions
Stir together all the ingredients in a bowl.
You can serve immediately if you like, but it is better to refrigerate overnight, or refrigerating it for at least four hours to thicken and become creamy.
Top with chopped pecans and serve, or if you prefer to have hot, microwave the oatmeal for 30-40 seconds until warm, add your mix-ins, and enjoy.
Notes
Breakfast Oatmeal Ideas

Do you want to add a bit more life to your cereal?
Try these breakfast oatmeal ideas for flavour variations using our oatmeal mix in ideas and different healthy oatmeal toppings.

Oatmeal mix-in ideas
Strawberries and cream;
Add ¼ cup sliced strawberries, a teaspoon of sugar free white chocolate chips and stir through 1-2 tablespoons of heavy Cream.
Chocolate peanut butter;
Exclude the brown sugar erythritol and cinnamon from the recipe.
Substitute the almond milk with chocolate flavoured almond milk and stir through 2 tablespoons of peanut butter.
Almond joy;
Fold through 1 tablespoon of sugar free chocolate chips and sprinkle with chopped roasted almonds, and chocolate chips on top.
Mixed berry;
Add your favourite low carb berries, like strawberries, raspberries, and blueberries.
Double Chocolate;
Use chocolate flavoured almond milk instead of plain and add chocolate chips and drizzle sugar free chocolate sauce on top.
Healthy Oatmeal Toppings
Apple Cinnamon;
Top oats with ½ cup of chopped apples and a sprinkle of extra cinnamon.
You can also add some chopped apples to the oats while they're cooking for even more apple flavour.
Banana Nut;
Top oats with banana slices, 2 tablespoons of toasted walnuts, ½ tablespoon of peanut butter dollop.
You can also add the banana slices during the heating process.
The banana will add a ton of flavour to the oatmeal along a bit of sweetness.
Berry Almond
Top cooked oatmeal with ¼ cup fresh berries, 2 tablespoons of chopped roasted almonds and 1 tablespoon of chocolate chips.
You can also add berries to the oats while they're cooking if you'd like!
Recommended Celebrity Cookbooks
This post contains affiliate links. If you use these links to buy something we may earn a commission. Thanks.
Nutrition Information
Yield
1
Serving Size
1
Amount Per ServingCalories 245Total Fat 11gSaturated Fat 5gTrans Fat 0gUnsaturated Fat 6gCholesterol 0mgSodium 52mgCarbohydrates 31gFibre 7gSugar 17gProtein 6g

"These values are automatically calculated and offered for guidance only. Their accuracy is not guaranteed."