The aroma of roast chicken wafting from the kitchen is a siren call that beckons even the most discerning foodie. This culinary classic, when paired with a delectable herb stuffing, transforms into a symphony of flavours that will leave you craving for more.

Yield: 1 roast chicken with stuffing
Recipe For Roast Chicken with Herb Stuffing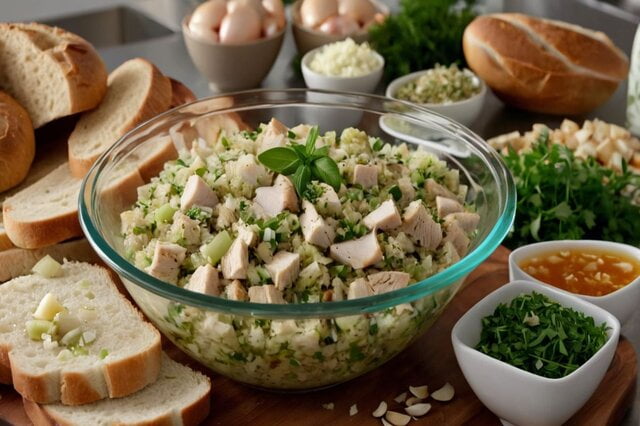 This delicious recipe for roast chicken with herb stuffing is sure to impress your guests.
Learn how to make a perfectly seasoned and succulent roast chicken with a flavourful herb stuffing.
Cook Time:
1 hour
30 minutes
Total Time:
1 hour
40 minutes
Ingredients
For the Chicken:
1 whole chicken (about 1.5kg)
1 tablespoon olive oil
Salt and freshly ground black pepper to taste
For the Herb Stuffing:
2 slices of bread, torn into small pieces
1 onion, finely chopped
2 celery stalks, finely chopped
2 cloves garlic, minced
1 tablespoon chopped fresh herbs (such as sage, rosemary, and thyme)
½ cup chicken broth
Salt and freshly ground black pepper to taste
Instructions
Preheat oven to 180°C (350°F).
Rinse the chicken and pat it dry with paper towels.
Rub the chicken with olive oil and season generously with salt and pepper.
In a large bowl, combine the bread pieces, onion, celery, garlic, herbs, chicken broth, salt, and pepper.
Mix well until the stuffing is evenly distributed.
Loosely stuff the chicken cavity with the herb stuffing.
Place the chicken in a roasting pan and roast for 1½ hours, or until the chicken is cooked through and the internal temperature reaches 74°C (165°F).
Remove the chicken from the oven and let it rest for 10-15 minutes before carving.
Notes
Tips:
For extra flavour, rub the chicken with softened butter before roasting.
To ensure the chicken cooks evenly, truss the chicken before roasting.
This involves tying the legs together with kitchen twine.
If you prefer a crispy skin, baste the chicken with the pan juices during the last 30 minutes of roasting.
Herb Stuffing Variations:
Experiment with different herbs in the stuffing, such as parsley, tarragon, or oregano.
Add chopped nuts or dried fruits to the stuffing for a richer flavour and texture.
For a more decadent stuffing, use sausage meat instead of breadcrumbs.
Conclusion:

Roast chicken with herb stuffing is a culinary classic that never disappoints.
With its simple yet flavourful ingredients and easy-to-follow instructions, this dish is sure to become a staple in your kitchen repertoire.
So gather your loved ones around the table and savour the symphony of flavours that this culinary delight has to offer.
Nutrition Information:
Yield:

6
Serving Size:

1
Amount Per Serving:
Calories:

298
Total Fat:

16g
Saturated Fat:

4g
Trans Fat:

0g
Unsaturated Fat:

10g
Cholesterol:

88mg
Sodium:

319mg
Carbohydrates:

8g
Fibre:

1g
Sugar:

2g
Protein:

29g
"These values are automatically calculated and offered for guidance only. Their accuracy is not guaranteed."