« Back to Glossary Index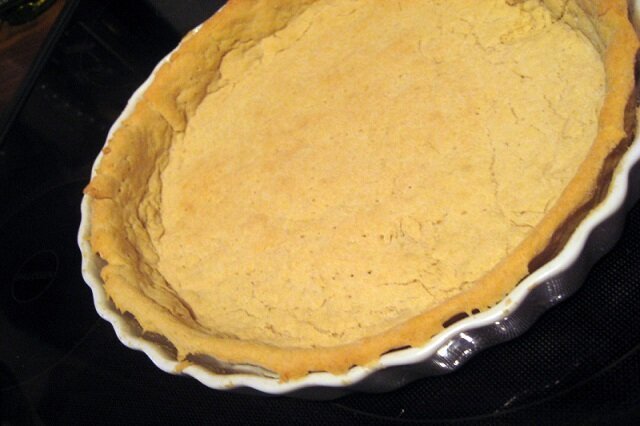 What Does Blind Baking Mean
When you are blind-baking it is to bake an empty pie, tart or flan shell so the pastry is partially cooked before the filling is added, or to cook completely if the filling isn't to be cooked with the shell.
When blind baking a pastry crust you are doing it (without a filling) to stop the pastry base rising during cooking, by doing this it ensures that the bottom crust will be cooked through and crisp.
Blind baking is basically just pre baking the pie crust before filling it,
Why blind bake pie crust?
The reason we want to do this is because if we don't blind bake the pie crust it won't get a chance to cook and get golden brown and flaky,
It'll be kind of soft and chewy.
The problem with just throwing these in the oven is if you do that the pie crust will bubble up.
This method is often used when one wants to create a cold pie with a baked crust.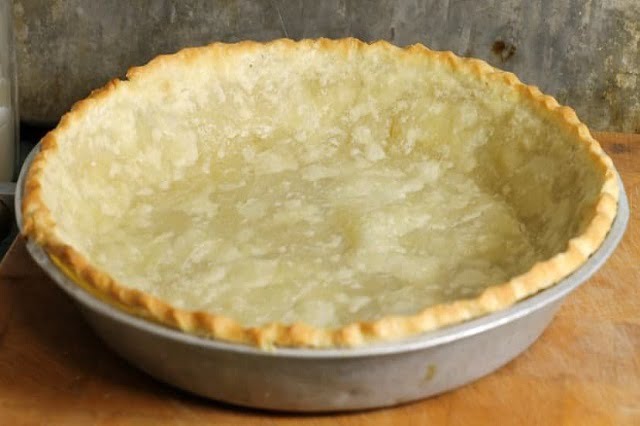 Yield: 1
How To Blind Bake A Pie Crust
Prep Time: 2 minutes

Cook Time: 10 minutes

Total Time: 12 minutes

Blind baking a pie crust can be achieved by using 1 of these 3 different methods.

This guide will teach you how to blind-bake a pie crust and getting that perfect pastry for your pie.
Ingredients
Pastry Dough
or 1 defrosted pastry pastry sheet
Instructions
Then follow one of the 3 following methods;
Blind Bake Without Weights

The first method we'll show you how to blind bake without weights, this is called docking the pie crust.
Docking is the term for the simplest method of blind baking where you simply take a fork and prick the dough all over.
These holes you produce allow the steam to escape and prevents the crust from bubbling up.

The only time when you might want to use pie weights instead of docking is when the filling is very liquidy, as with quiche or other pies that will be fully baked in the oven.
It is certainly not advisable for pies with wet fillings, as these can seep through the holes and then into or under the crust itself.

Directions For Blind Baking Without Weights
Roll out your pie dough.
After you've rolled out the dough, using a fork, pierce the surface of the pastry dough all over making sure you get the sides too
Throw into the preheated oven for 10 minutes or until golden.
Blind Bake With Pie Weights

A safer method is to weigh the crust down with "pie weights."
When using this method for a fully baked crust, the weights are removed before the pre-baking is complete in order to achieve a browned crust.

Here, the pie crust is lined with aluminium foil or parchment paper, then filled with pastry- or pie weights (sometimes called "baking beans") to ensure the crust retains its shape while baking.

Substitutes For Pie Weights

Pie-weights are available as ceramic or metal beads, but these substitutes for pie weights can be used instead.

Sugar
Dried peas
Lentils
Pinto beans
Other pulses

Your homemade pie weights will probably be too dry to cook and eat afterward, but don't toss them.
If you save them in a labeled jar, you can use them the next time you need pie weights.

Directions For Blind Baking Using Weights
Line the base and sides of an uncooked pastry case with non-stick baking paper or foil.
Fill it with dried beans, or rice, or macaroni elbows, or metal or ceramic baking weights.
Place on a baking tray and cook in an oven preheated to 220°C (428°F) for 8-10 minutes.
Remove the pastry case from the oven and remove the baking paper or foil and weights.
Cook for a further 5-10 minutes or until light golden.
Blind Bake Using Another Pie Pan

If you own two pie pans, you already have a perfectly shaped pie weight.
This technique dispenses with weights by placing a second pie tin on top of the crust, then inverting the tins to bake.
This will weigh down the crust and prevent it from puffing.

In this method, the crust browns between the tins.

Directions For Blind Baking Using Another Pie Pan
Cover the dough-lined pie pan with parchment or foil.
Place the second, empty pie pan on top.
Place on a baking tray and cook in an oven preheated to 220°C (428°F) for 8-10 minutes.
Recommended Celebrity Cookbooks
This post contains affiliate links. If you use these links to buy something we may earn a commission. Thanks.
Nutrition Information
Yield
1
Serving Size
1
Amount Per ServingCalories 160Total Fat 105gSaturated Fat 49gTrans Fat 0gUnsaturated Fat 45gCholesterol 128mgSodium 1801mgCarbohydrates 217gFibre 10gSugar 36gProtein 24g

"These values are automatically calculated and offered for guidance only. Their accuracy is not guaranteed."
« Cooking Terms