Among the many keto deviled egg recipes, one of the few that stands out is this one with bacon and kimchi.
Kimchi by nature has a bright and spicy zip.
Yolks on the other hand have the undeniable rich and creamy texture and the bacon adds that extra flavour along with a bit of crunch.
Surprisingly, it's a good match that you'll surely love.
Truly a unique gluten free and keto friendly dish that's packed with deliciousness in one explosive bite!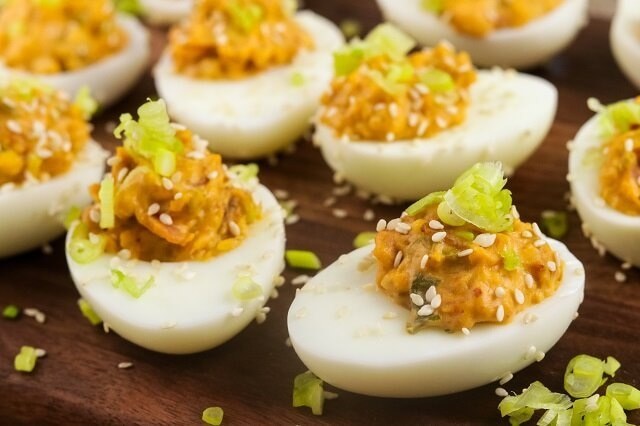 Yield: Yield: 6 serves.
Keto Deviled Eggs
Prep Time: 5 minutes

Cook Time: 6 minutes

Total Time: 11 minutes

Deviled Eggs with Bacon
This recipe for keto deviled eggs with Bacon and Kimchi is so quick and easy.

These low carb deviled eggs will make a delicious finger food! They are also a great option for on the go snacks!
Ingredients
3 Eggs, hard boiled
1 Tbsp Mayonnaise
1 Tbsp Kimchi, chopped (see notes below)
1 Tbsp cooked Bacon bits
½ tsp light Soy Sauce
2 tsp chopped Spring Onions
1 tsp toasted Sesame Seeds
Instructions
Peel the eggs, and cut them in half the long way.
Gently remove the hard-boiled yolks and put them in a bowl, setting the white halves aside.
Combine egg yolks, mayonnaise, kimchi, bacon bits, soy sauce, and spring onions in a bowl. Mix until well combined.
Spoon mixture into egg white halves.
Garnish with spring onions and sesame seeds.
Notes
You can store the deviled eggs for up to two days, refridgerated in a sealed storage container.
This means you can make them the day before a party, picnic or gathering.

What Is Kimchi and Where Do I Get It?

Kimchi is a spicy side dish made of fermented cabbage, and it's very much beloved in Korea where it is served with virtually every meal.
There are many kinds of kimchi, but here I like to use the popular cabbage kimchi known as baechu kimchi.

You can find kimchi in the refrigerated section of most well-stocked grocery stores, though if you have an Asian market nearby, you will be stunned by the array of different kimchi options available there.
Recommended Celebrity Cookbooks
This post contains affiliate links. If you use these links to buy something we may earn a commission. Thanks.
Nutrition Information
Yield
6
Serving Size
1
Amount Per ServingCalories 63Total Fat 5gSaturated Fat 1gTrans Fat 0gUnsaturated Fat 3gCholesterol 94mgSodium 104mgCarbohydrates 1gFibre 0gSugar 0gProtein 4g
Deviled Eggs Recipe Variations
The spring onions can be substituted with – Red onions, Green onions, Leeks or Chives.
Instead of garnishing with spring onions and sesame seeds put a dollop of this creamy cocktail sauce on top.
Sunflower Seeds could be used instead of Sesame Seeds.
Deviled Eggs with Bacon Serving Suggestions