These biscuits are a traditional Kiwi & Aussie favourite.
This chewy Anzac biscuits recipe complete with rolled oats, coconut and golden syrup creates a biscuit that is beautifully moist and chewy.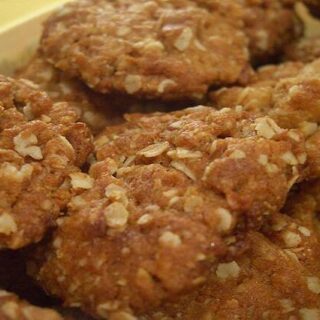 Easy Anzac Biscuits Recipe
Yield: Yield: 24 Biscuits

Prep Time: 10 minutes

Cook Time: 10 minutes

Total Time: 20 minutes

How to make Anzac biscuits.
This easy Anzac biscuits recipe makes the most delectable, chewy & soft Anzac biscuit.

The variation with no ingredient changes will turn it into a more crunchy version.
The whole family will love these.
Ingredients
2 cups plain flour
2 cups rolled oats
2 cups desiccated coconut
1½ cups brown sugar
1 cup butter
4 Tbsp golden syrup
2 tsp bicarbonate of soda
2 Tbsp boiling water
Instructions
Preheat oven to 160°C (320℉)
Lay baking paper over the biscuit/cookie trays.
Sift the flour and then put the flour, oats, coconut and brown sugar into the mixing bowl and stir well with a wooden spoon.
Smash out any lumps in the brown sugar.
Put the butter and golden syrup in the saucepan over low heat, stir regularly with a wooden spoon until melted through.
Remove from heat.
Mix the baking soda and water together and add to the butter mixture in the saucepan. It will bubble and froth.
Quickly add the frothy mixture to the dry ingredients in the mixing bowl and mix everything together really well.
Roll the mixture into balls about 2cm round.
Place on the biscuit/cookie trays roughly 5cm apart.
Wash and dry your hands and then flatten down the balls well.
Bake for about 10 minutes. Remove and cool on wire racks.
Notes
Make sure the biscuits are spaced well apart or they'll end up being one giant biscuit in the middle of the tray.
Easy Anzac Biscuits Serving Suggestions
Great with a cuppa or just a glass of milk.
They make a good lunchbox filler.
Turn them in to a dessert and make ice cream sandwiches with them.
Easy Anzac Biscuits Variations
Bake longer if you prefer crunchy anzac biscuits.
Recommended Celebrity Cookbooks
This post contains affiliate links. If you use these links to buy something we may earn a commission. Thanks.
Nutrition Information
Yield 24 Serving Size 1
Amount Per ServingCalories 216Total Fat 10gSaturated Fat 7gTrans Fat 0gUnsaturated Fat 3gCholesterol 20mgSodium 87mgCarbohydrates 30gFibre 2gSugar 15gProtein 2g